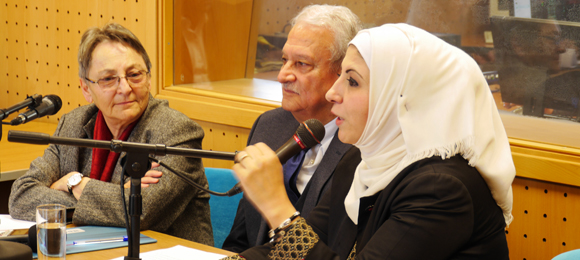 The Media Development Centre at Birzeit University and several local radio stations on February 12, 2016 joined the rest of the world in marking annual World Radio Day.
University president Abdel Latif Abu Hijleh, speaking at the event, emphasized the vital role that radio plays in the technological era. "There is a changing face to radio services which, in the current time of media convergence, are taking new technological forms such as streaming through mobiles and tablets and the emergence of social media. Still radio remains the medium that reaches the widest audience worldwide in the quickest possible time."
"As a university," he continued, "we seek to improve cooperation between broadcasters locally and internationally and to encourage our students to specialize in this field by providing plenty of training in state-of-the art radio studio and audio facilities."
Vice President for Community Outreach Liza Taraki said that, since its emergence in 1936, radio has always given Palestinians a voice to speak and express their thoughts freely while Israel continuously infringes upon the rights of the Palestinian people to freedom of opinion and expression.
Taraki encouraged those who work in media not to turn their backs on radio broadcasting services as it remains the primary mean of information and entertainment and has the capacity to reach large numbers of people and affect them.
Media Development Center director Nibal Thawabteh described the professional training courses and reliable consultancy services keeping apace with the latest professional and technical standards in media that are offered by the center. "We aim to expand journalists' radio knowledge with our training courses," she said. "We see radio broadcasting as the most powerful communication medium."
World Radio Day was initiated by UNESCO in 2011 to celebrate radio as a medium, improve cooperation between broadcasters, and encourage major networks and community radios to promote access to information, freedom of expression, and gender equality over the airwaves.