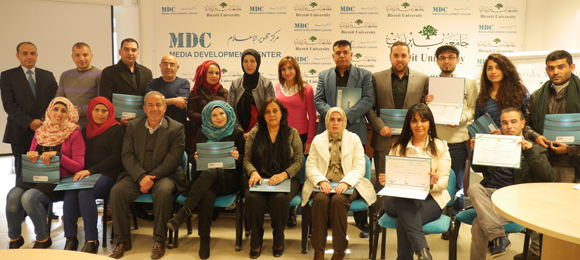 President Abdul Latif Abu Hijleh Monday 7/12/2015; received Hanan Ashrawi, the head of the Culture and Information department in the Palestine Liberation Organization, for the official opening of a Media Spokespersons workshop.
Vice President for Community Outreach Lisa Taraki, Center of Media Development (MDC) Director Nibal al-Thwabteh, Media Research and Policy unit coordinator at MDC Saleh Masharqa, and head of Ashrawi's information department Samia Wazouz attended the meeting.
Abu Hijleh and Ashrawi discussed the importance of training and developing the media skills of the PLO's employees. They explained that the workshop is the product of a thorough study of the PLO's media performance and needs.
They further highlighted the depth of the partnership between Birzeit University and Palestine's national institutions, most notably the PLO.
Thawabteh explained that the training course will address the special skills a media spokesperson should posses, including writing news and press releases, running social media and performing online research, conducting radio and TV interviews and organizing press conferences, just to name a few.
The workshop, held in the Mohammad Masrouji Media Building, was attended by the Vice President for Development and Communications, Ashrawi, and 16 employees selected from different departments in the PLO.
Ashrawi affirmed that the purpose of the workshop is to concentrate on mechanisms and methods that help convey the Palestinian media message in a clear and wise manner to achieve a unified goal using all means available.
Khatib said the university has always sought to boost ties with national Palestinian institutions and exert all efforts to help employees achieve tasks with efficiency and in a professional manner.